mayo 16, 2014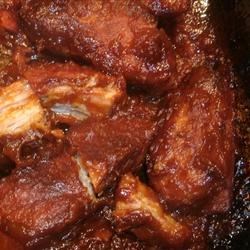 1/4 cup Worcestershire sauce
4 tsp dry mustard or 4 Tbs. of regular mustard
1.Preheat oven to 350 degrees F (175 degrees C).
2.

In a large bowl, combine onions, ketchup, water, salt, Worcestershire sauce, vinegar, brown sugar, and mustard. Split ribs down the center between the bones.
3.Heat a large lightly oiled skillet over medium-high heat. Add ribs and sear until browned. This may have to be done in several batches.
4.Place ribs in a single layer in two baking pans or casserole dishes. Pour half of the sauce over the ribs, reserve remainder.
5.Bake ribs in preheated oven for 3 hours. Turn and baste meat every twenty minutes with remaining sauce, using all sauce by two hours. Continue turning and basting ribs using sauce in the pan during the last hour of baking.
mayo 07, 2014

This is a Recipe from : www.thepioneerwoman.com
Ingredients
1 cup

All-purpose Flour

1-1/2 teaspoon

Baking Powder

1/4 teaspoon

Salt

5 whole

Eggs

1 cup

Sugar, Divided

1 teaspoon

Vanilla

1/3 cup

Milk

1 can

Evaporated Milk

1 can

Sweetened, Condensed Milk

1/4 cup

Heavy Cream
FOR THE ICING:
1 pint

Heavy Cream, For Whipping

3 Tablespoons

Sugar
Preparation Instructions :
Preheat oven to 350 degrees. Spray a 9 x 13 inch pan liberally until coated.
Combine flour, baking powder, and salt in a large bowl. Separate eggs.
Beat egg yolks with 3/4 cup sugar on high speed until yolks are pale yellow. Stir in milk and vanilla. Pour egg yolk mixture over the flour mixture and stir very gently until combined.
Beat egg whites on high speed until soft peaks form. With the mixer on, pour in remaining 1/4 cup sugar and beat until egg whites are stiff but not dry.
Fold egg white mixture into the batter very gently until just combined. Pour into prepared pan and spread to even out the surface.
Bake for 35 to 45 minutes or until a toothpick comes out clean. Turn cake out onto a rimmed platter and allow to cool.
Combine condensed milk, evaporated milk, and heavy cream in a small pitcher. When cake is cool, pierce the surface with a fork several times. Slowly drizzle all but about 1 cup of the milk mixture—try to get as much around the edges of the cake as you can.
Allow the cake to absorb the milk mixture for 30 minutes. To ice the cake, whip 1 pint heavy cream with 3 tablespoons of sugar until thick and spreadable.
Spread over the surface of the cake. Decorate cake with whole or chopped maraschino cherries. Cut into squares and serve.

This is a Recipe from www.joyofbaking.com
Ingredients :
1 cup (130 grams) all-purpose flour
1 1/2 teaspoons baking powde
r
1/4 teaspoon salt
2 tablespoons (28 grams) granulated white sugar
1 large egg
, lightly beaten
1

cup (240 ml) milk
2 tablespoons (28 grams) unsalted butter
, melted
Plus extra melted butter for greasing the pan.
Preparation Instructions:
In a large bowl whisk together the flour, baking powder, salt and sugar. In a separate bowl whisk together the egg, milk, and melted butter. Make a well in the center of the dry ingredients and then pour in the egg mixture, all at once, and stir (with a rubber spatula or wooden spoon) just until combined. The batter should have some small lumps. (Do not over mix the batter or the pancakes will be tough.)
Heat a frying pan or griddle over medium high heat until a few sprinkles of water dropped on the pan or griddle splatter. Adjust the temperature as needed. Can also use an electric griddle with the temperature set at 350 degrees F (180 degrees C). Using a piece of paper towel or a pastry brush, lightly brush the pan with melted butter or oil (or spray with a non stick vegetable spray.)
Using a small ladle or scoop, pour about 1/4 cup (60 ml) of pancake batter onto the hot pan, spacing the pancakes a few inches apart. When the bottoms of the pancakes are brown and bubbles start to appear on the top surfaces of the pancakes (2-3 minutes), turn over. Cook until lightly browned (about 1-2 minutes).
Repeat with remaining batter, brushing the pan with melted butter or oil between batches.
Serve immediately with butter and maple syrup.
Makes about 8 - 4 inch (10 cm) pancakes. Serves 3-4 people.
For Blueberry Pancakes: Sprinkle fresh or frozen blueberries (prefer wild blueberries) on the tops of the pancakes just as bubbles start to appear on the top surface of the frying batter. Preparation time

15 minutes

.